"Language rights are permanent rights; they are not concessions or privileges granted at times of prosperity." Seán Ó Cuirreáin, Coimisinéir Teanga,
Last December, largely ignored by the English speaking media, saw the
shock announcement
of the Coimisinéir Teanga (Language Commissioner) that he intended to resign during this month. This event and also his
later eloquent testimony
explaining his decision to an Oireachtas Committee galvanized not only what is dismissed loftily as the Irish speaking lobby, but also ignited a simmering rage in the ever-reducing Irish speaking communities (Gaeltacht) where Irish is still used as a community language.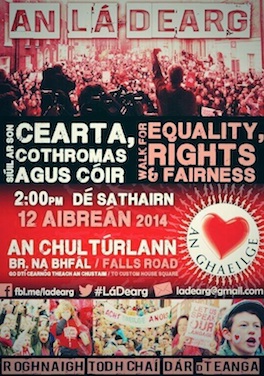 Another walk is being organised for the Northern Capital which will be entitled "An Lá Dearg" (The Red Day!).
This follows the successful "Lá Mór na Gaeilge" in Baile Átha Cliath on 15th February 2014 with up to 10,000 people, and the tribute to the resigning Language Commissioner, Seán Ó Cuirreáin in Conamara (23/2/2014) attended by up to a thousand people.

Will you be with us?
A hastily arranged meeting in Dublin's Liberty Hall gave expression to this anger and one of the results was the decision to hold a demonstration in Dublin on the 15th February 2014. Spontaneous meetings sprung up throughout the country, north, south, east, west to discuss how best to support this day and also to allow the expression of the feelings of those unable to attend the initial Liberty Hall meeting.
This writer attended the meeting in South Conamara, held in the historic Sean Scoil Sailearna, an old school building which has been imaginatively transformed into a wonderful theatre. Many grievances were aired but the one which made the greatest impact on me was the anger at the lack of understanding of the education needs of an Irish speaking area.
IAFL (Irish as a Foreign Language)
I was unaware just how unsuitable the uniform syllabus foisted on our schools is. Pupils in Rathfarnham, Carlow, An Spidéal or an Bun Beag have exactly the same linguistic programme. A pupils in an English speaking school in English speaking Dublin has a curriculum in Irish and in English which is exactly the same as a pupil in an Irish speaking school in Irish speaking Indreabhán. In other words the Irish curriculum is being taught as a foreign language even where it is the language of the community.
A study some years ago found that the schools in the Gaeltacht were excellent at teaching English but not Irish. Perhaps we have unearthed the reason why. This is understandable when one realizes that the Department of Education admits that only 1.5% of its personal have sufficient knowledge of Irish to conduct the business of administrating the educating the children of Ireland in what our constitution defines as the National Language.
Speak Irish among yourselves, but don't speak it to us!
It does not help when one experiences that the state agencies, almost without exception, are unable to conduct business in the Gaeltacht in the language of the people. The Government have not provided assurances to ensure that it will communicate in Irish with Gaeltacht communities without terms and conditions and that it will have adequate staff in public administration with proficiency in Irish to serve those excercising their constitutional right to deal in Irish with the state. In the words of the resigning Language Commisioner,
'..the State sector is effectively saying to Gaeltacht communities: "Speak Irish among yourselves, but don't speak it to us!".'
The courageous decision of
Seán ó Cuirreáin
highlights the situation as he sees it after ten years,
"The choice I had was to stand aside from my appointment as Coimisinéir Teanga on principle to draw attention to these matters or to continue in my role and, consequently, to participate in a pretence."
One is amazed at the unprecedented speed with which the Government has acted in appointing a successor to this position. The method of selection is of course clouded in secrecy, as is the wont of this "open" administration. The thought has occurred to more than one that it is an attempt to appease those who will be walking the streets of Dublin on Saturday. Certainly the appointment of
Rónán Ó Domhnaill
is universally welcomed. He appears to be a good choice but one wonders if he will have any greater success than his successor if securing the respect for his office in the ranks of the civil services where, in the words of one of their members,
"passive inaction on their part now seems to have moved up a notch or two to one of active undermining."
If that is the case one wonders how long his term of office will last or will he too be forced to resign on principle?
Seán Ó Cuirreáin stated our choices succinctly: "
We have two simple choices – to look back at Irish as our lost language or to move forward with it as a core part of our heritage and sovereignty."